French Pod 101 is a well designed online course for helping to enhance your skills in learning the French Language also known as the language of love. French Pod 101 offers classes from beginner to advanced and has something to offer all levels of students. Relax at home and study at your own pace or take French Pod 101 with you on the go with the mobile application for your smart phone device.
French Pod 101 is constantly adding new material, amazing support system and even an online tutor for the premium purchases. French Pod 101 is free to join and often offers a free trial for you to see if French Pod 101 is the right language learning program for you.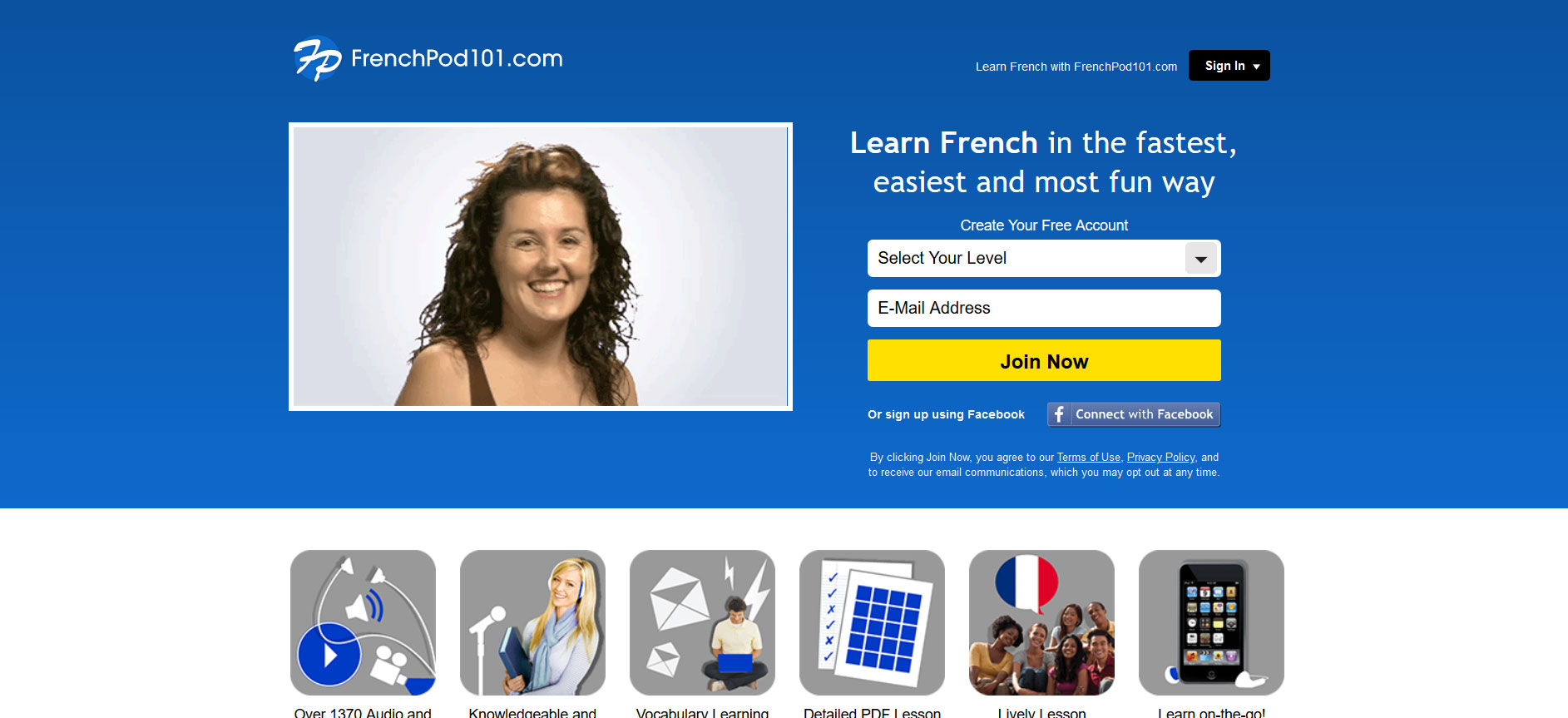 Why Learn French?
Perhaps you are heading to France on vacation and would like to have a basic understanding of the language to navigate around the country? Looking to impress your friends, family or your significant other with this popular language? New career where French is needed or will help advance you to a higher position in the company?
Always just wanted to try a new language for your own personal enjoyment? Perhaps you are a bit shy signing up for a French course with others so you are looking for an option to learn on your own? Whatever the reason for your interest in the French language this system has got you covered.
French Pod 101 Format
The majority of the course is offered in easy to follow audio and video lessons. Each lesson dialogue text is included in the member's area to help your understanding of the content. You are not limited to just the member's area as you can download the full transcripts of each lesson in PDF format.
You can also download the full audio and video files directly to your computer for easy access later or if you know you will not be connected to the Internet. Remember, there is also an online French Pod 101 App that you can easily download to your smart phone so you can take this course anywhere.

The French Pod 101 Course Consists Of Four Different Levels:
1. Absolute Beginner – No or very limited experience with the French Language.
2. Beginner – Basic Phrases and a small working vocabulary.
3. Intermediate – Strong vocabulary with a solid working conversation level.
4. Advanced – Strong conversational skills with the hopes of becoming completely fluent.
Most Lessons Are Set Up Into Three Different Sections:
1. Start – The lesson is spoken by both French and English native speakers in both languages.
2. Review – The same lesson from above but this time they give you time to speak as well
3. Dialogue – Once again the same lesson but this time no English at all. If you can understand this section without the English notes you are well on your way.
What To Expect In The Member's Area
French Pod 101 member's area dashboard is organized quite well to help you navigate easily in your goals to learn the French Language. You can choose your skill level by a drop-down box which then navigates you to a series of lessons associated with that skill level. You have a wide range of options such as saving the lessons to your computer, adding the lesson to a favorite list, creating quick notes and so much more.
You can also click the complete box when you feel that you have mastered a particular lesson. French Pod 101 will constantly track your overall progress as you move throughout the course.
Need Help Or Support With The French Language?
Have a question about a particular lesson? Not a problem for French Pod 101. Each lesson also has a comment section where you can leave your inquiry and be notified when the question has a response. If you find yourself with several questions or perhaps want a more personal touch, French Pod 101 also offers a personal online French tutor.
The tutor will usually get back to you quite quickly but be aware that the tutor is not on 24 hours a day so you can expect some answers to be the next day. The personal online tutor is an upgrade feature and does cost a little more but is a great addition for those very serious about learning the French language.
Extra Features Inside Of French Pod 101
French Pod 101 has several other features and tools to help your progression in learning the French language.  Flash Cards, Daily dose of French, Online dictionary and one of my personal favorite tools the Word Bank.  The Word Bank gives you the option to save any word in a lesson to a database that you can access easily at any time.  When you have completed a lesson and you feel comfortable of your understanding there is also an option to take a quiz to see if you are really ready to move on to the next lesson.
Offers Courses For All User Levels
Wide Range Price Options Plus Free Option Trial
Smart Phone App Included
Good Support
Each audio starts off the same way, introducing the speakers. I have to admit it can get a little tiring hearing the same introduction over and over However, this is a minor con considering this is a strong program.
Final Thoughts On French Pod 101
French Pod 101 is a well-designed complete course that offers many lessons for those just starting out with the language to those that hope to be fluent in the future. The member's area is easy to navigate and you have the ability to download all the content directly to your computer. For those that are constantly on the go, no worries as you can download the French Pod 101 app to your mobile smart device and learn the language anywhere.
French Pod 101 is constantly adding new lessons, has a great support system and many options to upgrade your package to help enhance your language learning. Remember, you can join French Pod 101 for free and access the free lessons and often a trial is offered to see if the course if the right fit for you. Sign up by clicking below and start learning French today, you will not regret it!
CLICK BELOW FOR YOUR FREE TRIAL MEMBERSHIP AT FRENCH POD 101